Choosing the right home security camera can be difficult when there are so many different brands and price points to choose from. The Nest Cam which was originally Dropcam before being purchased by Google / Nest is a popular brand because they have a reputation for quality hardware, features and cloud services. I reviewed each of the Dropcam cameras that were released but I am only just now getting the opportunity to review the Nest Cam. Let's take a look.
The Nest Cam is an indoor cloud-based home security camera. By "cloud-based", I mean that all the footage is automatically uploaded to your Nest account. That means you don't have to manage a home server, hub, hard drives or micro SD cards to store the footage. This is actually a great security feature since even if an evildoer disables or destroys the camera, the footage of them doing that will be saved to your account. It also means that in order to use all the features of the Nest Cam, you will need to pay for a monthly or yearly subscription. But more about that later on in the review.
The camera is made of shiny black plastic with the lens in the center with a status LED above it that glows green when the camera is active and amber with there is a connectivity issue. Note: you have the option of disabling the LED.
The dark grey metal stand's design has modern look and has a hinge at the base that allows you to adjust the angle of the camera. The base is also magnetic so the camera can stick to a steel surface. Using the included hardware, you can attach the Nest cam to a wall. There's even a threaded socket on the bottom so you can put the Nest Cam on a tripod.
The camera uses a micro USB cable and AC adapter for power. But it's odd that the adapter and cable that are included in the package are white when the Nest Cam is only available in black. I know that's a small thing to complain about, but the white cable does give the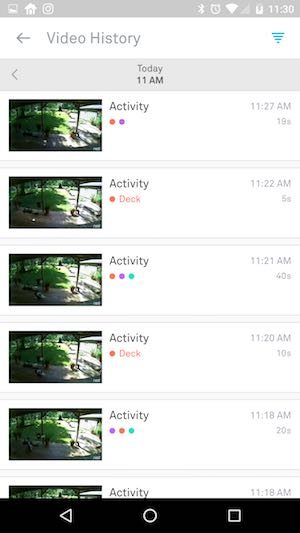 impression that it doesn't really go with the camera.
The home screen of the Nest mobile app has a live thumbnail view of your cameras and other Nest devices like the Nest thermostat.
Tapping one of the cameras on the home screen will bring you to a larger live view of that camera. In this view you can have a 2-way audio conversation, rewind the view 30 seconds with each press of the back arrow buttons and also check the camera's notification history. In the history view, you'll see a list of thumbnails which are short clips that were captured when motion or sounds were detected in the zones that you previously set up. Tapping a thumbnail will let you view the video clip in a larger window.
writer: http://the-gadgeteer.com/2016/08/22/nest-cam-indoor-security-camera-review/
source: http://the-gadgeteer.com/2016/08/22/nest-cam-indoor-security-camera-review/